I had a plan.
I'd go home, relax a bit, read a bit while the sun was still out, then start dinner.
With every intention to follow through on my plan, I turned on the television.
Hooked on a movie, the sun set.
Afterwards, I started dinner, cleaned a bit, and walked a mile on the treadmill.
Well into the evening, I decided to pick up that book after all.
Heads Up: This post contains affiliate links. If you make a purchase using one of these links, I could earn a small fee, at no additional cost to you.
The Title: The Carrow Haunt by Darcy Coats.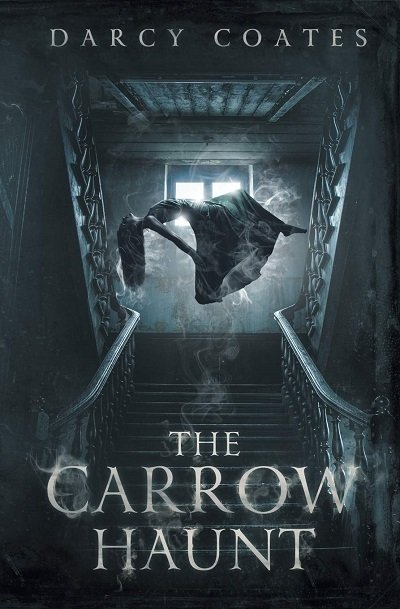 Not really one for horror novels since R.L. Stine's Fear Street series of the late 90's…don't you dare try and guess my age 😀 …I wanted to try a spooky story.
::The Carrow Haunt tells the fictional tale of eight strangers' 2 week stay in a defunct, rumoredly haunted, hotel. ::
I started reading on Saturday, and read a little more on Sunday before making a firm agreement with myself to only read when someone was home with me.
Eager to get back to the story, I caved on Tuesday NIGHT, and read one full chapter.
After that, a few things happened:
I kept getting spooked by the 2 large mirrors in my bedroom, so I avoided them completely.
My shadow on the ceiling, which I'd never noticed before, startled me. My OWN shadow, guys!
The lights in my home flickered. They never do that unless there is a storm. And there was NO STORM.
I awoke with a start every time I heard the smallest sound, so my quality of sleep equalled crap.
In conclusion, I'm a huge scaredy cat.
Also in conclusion, I think I'm going to read some more this evening while the sun is still out, even though I'll be home alone. :D.
Wish me luck.
Happy Reading!
All the Best,
♥ Ash
P.S. Do you read spooky books? If so, what's the spookiest book you've ever read?