Esperanza Rising is one of my favorite books, though I've only read it once, 6 years ago.
A Brief Synopsis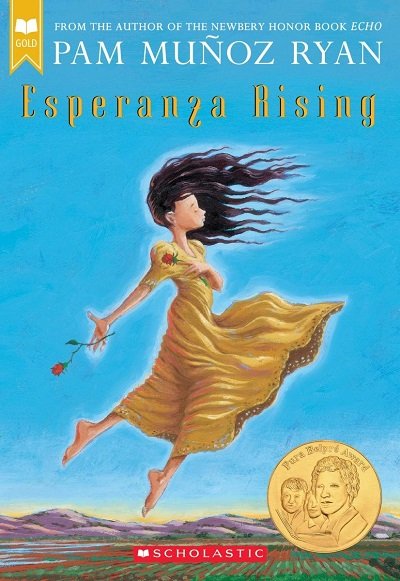 Esperanza Rising is a riches to rags tale where we follow our protagonist Esperanza Ortega, 12 year old daughter of Sixto Ortega, a wealthy rancher in 1920's Mexico.
One fateful day, Sixto is killed by bandits.
During this time in Mexico, only men are permitted to own land. And after Sixto is killed, his two corrupt step-brothers approach his widow, Ramona, and offer to marry her, so that she may stay with the land.
She refuses.
Fearing retaliation for their public embarrassment, and penniless, she and Esperanza flee to the United States to a work camp for migrant workers.
Heads up: Affiliate links ahead, which means I could earn a small fee if you make a purchase using one of these links.
We continue following Esperanza's experience from here.
A Little Background on My Rereading Experience
I'd never reread a book, until now. With so many good books on my TBR that I have yet to read, compounded with the fact that I read like a turtle, I couldn't make a case for revisiting a book I'd already read, no matter how much I enjoyed it.
But this time was different.
Feeling slumpy after finishing The Book of M, and having heard that people revisit their favorite books when they feel a reading slump coming on, this seemed like the perfect opportunity to give it a shot. Besides, I'd also heard that rereading a favorite book compares to visiting an old friend. And who doesn't enjoy that?
Filled with anticipation, I began to read.
I finished this 262 page book in just under 2 months, which is a long time, even for this turtle of a reader.
So, what happened? Why did it take me so long to finish it?
My expectations were too high, I think. I went into it just knowing that I would love it once more. And when I found myself not loving it as much, I pushed it aside. But, I was able to enjoy the story again, once I relaxed my expectations.
I learned that it's best if I approach rereading the same way I'd approach a book I've never read: as it's own experience.
Now for the biggest question of all: did I love it as much this time around?
Well, the first time I read Esperanza Rising, I gave it 5 stars. This time, I dropped my rating by a point, bringing it down to 4 stars, which is still a very high rating from me. It's still a great story, and I enjoyed it immensely, once I relaxed of course, but I enjoyed it even more the first time around.
What stuck me the most during my reread were the themes of camraderie, growth, and resilience. I was so here for all of those.
Overall, my first reread was a good experience, once I figured things out. I will definitely be doing more in the future.
Happy Reading!
All the Best,
♥ Ash
P.S. What do you think about rereading books?