Hiring your first freelancer can be overwhelming.
But, it doesn't have to be.
You might be wondering-
How do I choose the right person? How do I make sure I don't get scammed? And, how can I have a positive first experience?
I'm going to share the process I used to successfully find, and hire, my first freelancer on Fiverr.
Now, let's get you on the road to finding one for yourself.
If you already have someone in mind, simply follow these steps to hire them.
How To Find A GOOD Freelancer
This post contains affiliate links. If you make a purchase using one of these links, I could earn a small fee, at no additional cost to you.
#1: Create an account.
This gives you access to Fiverr's "save" feature.
Maybe you're interested in an offer but you don't have time to review the details then and there, save it and go back later when you have time.
Saving an item is simple, just tap the heart icon near the offer, and save it to an existing list, or create a new one.
#2: Find service offers.
A quick way to find offers is to enter a few search terms in the search bar. Vary the terms and wording to get a different set of results.
You can also search by category.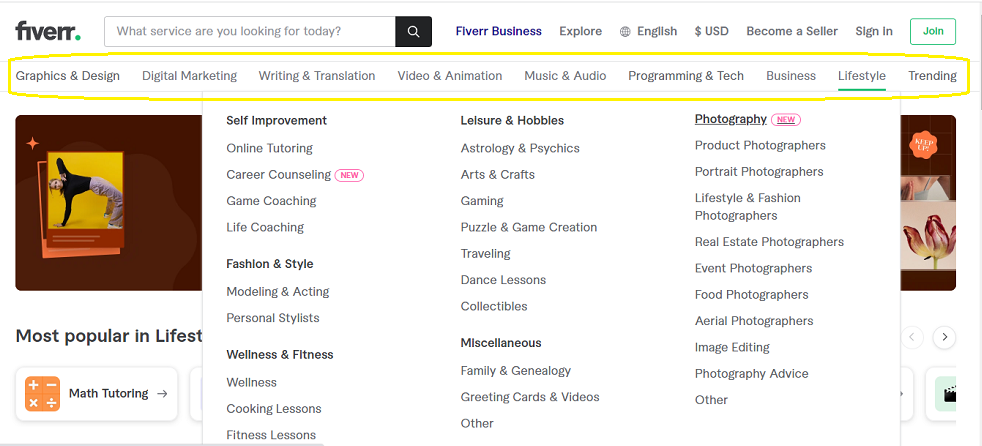 On mobile, you can find freelancers using the search bar, by category, or by interest.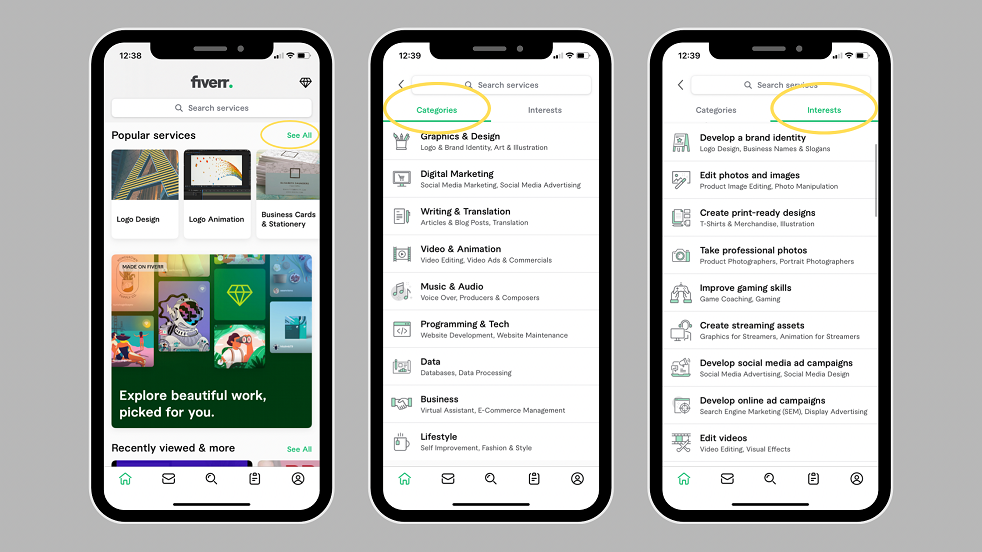 You can narrow down your search, on the desktop site, by using this bar.

On the app, you can narrow your search by using sub-categories, or filters.
#3: Get an overview of the offer.
Once you find a listing that catches your eye, review the packages, and samples, if any.
Many sellers offer these three packages: Basic, Standard, and Premium. Although, some may only offer one or two of those.
Do you see one that aligns with what you want to accomplish?
If so, save it.
If samples are available, you'll find them: by swiping left on the listing's image on mobile, and the Fiverr app; by clicking the right arrow on the offer image, on the desktop site; by viewing the My Portfolio section.
#4: Further analyze the offer.
Check out the star ratings, reviews, and seller qualifications (if available).
Star ratings are located just beneath the FAQ. You'll see an overall star rating, followed by a breakdown for things like Seller Communication, Service As Described, and Would Recommend.
You'll find the reviews directly beneath the star ratings. Read through a few 1, 3, and 5 star reviews. Glowing reviews are fantastic but it's also helpful to understand why less-than-satisfied buyers felt that way.
Understanding them helps you in one of three ways, it can help you to: avoid the seller, manage your expectations of the offer, or use that information to better be able to work with the seller.
TIP #1: Give recent reviews more weight than older ones.
TIP #2: Give descriptive reviews more weight than spare ones.
You can find their qualifications in the offer description which is directly beneath the listing's image, or sometimes in the FAQ.
Once you have at least 3-5 candidates saved, it's decision-making time.
#5: Choose A Freelancer (3 Possible Ways)
If one seller stands out among the group, you've found your freelancer.
Another way to decide is simply by following your gut. If one gives you a strongly positive gut feeling than the others, you've found your freelancer.
RELATED: How to Hire Your Freelancer, Step by Step.
If neither of those methods work for you, consider the elimination method.
Ask yourself questions like –
Who seems a cut below the rest?
Who is out of budget?
Who has more low star reviews?
Who has a slower turnaround time?
Eliminate them one at a time until only one is left standing.
If you're ready to hire them, this is how you do it.
Now, let's chat a bit about new sellers.
Should You Hire a New Seller?
You can easily see a seller's status, on their desktop site, as you look through offers.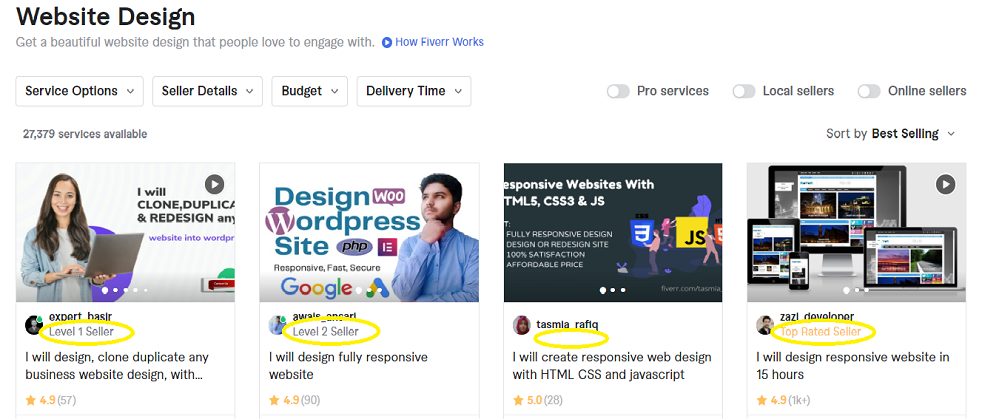 On the app, you'll find their status once you open up the listing's details.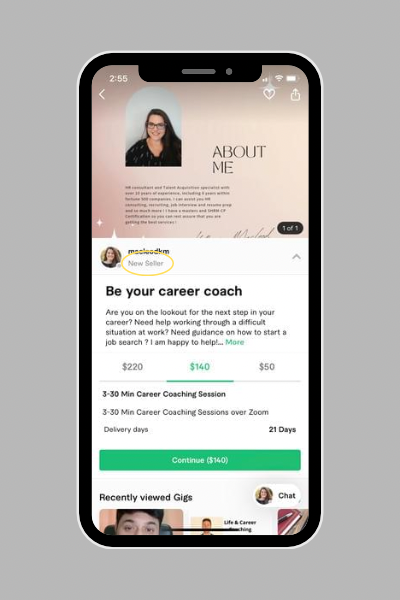 As an FYI, these are the qualifications a seller has to meet to move from New Seller to a Level 1 Seller:
You might be reluctant to work with a new seller, and understandably so. There, simply, may not be enough information to vet them using these steps.
But, the benefit is that new sellers may have better rates than advanced level sellers. They, also, may be able to provide the work you need, just as well, too. They simply need an opportunity to prove themselves.
I encourage you to reach out to a seller (new or experienced) before you place an order, if it helps you feel more comfortable making a decision. Also, see if they can provide a few samples or a portfolio, if there isn't anything listed on Fiverr.
But, when in doubt, go with your your gut.
How to Hire A Freelancer on Fiverr in 3 Simple Steps
Hiring on Fiverr is a very straightforward process, and only takes about 2 or 3 steps.
Navigate to the offer page.
Choose A Package
Choose a package by selecting its respective tab. The options are Basic, Standard, and Premium. Most sellers offer all three, but don't fret if you only see one or two. Be sure to review the package details to ensure you're aware of what you're getting.
Also, take note of, and follow, any special instructions given by the seller. "Please contact me before placing an order", is a common one.
Select Extras
Extras are optional and incur an additional fee.
Faster turnaround time is a common one, but they will vary according to the service you're hiring for.
You'll find Extras on the same page as the package options, or on the following page.
Click Continue after you've chosen, or decided not to choose, Extras.
Payment
Review your order details and enter your payment information.
Fiverr accepts all major credit cards, and Paypal, through their desktop and mobile sites. Apple Pay is listed as an additional option on their app.
Once you've entered your payment information, and reviewed your order details, tap Continue to finalize your order.
Congrats: you've hired your first freelancer through Fiverr!
All the Best,
Ash