Hey You!
Happy First Day of Fall.
To honor this day, I thought a Tag would be fun.
Now, I wasn't tagged, but I'm going to do it anyway.
So, this is called the I Heart Fall Tag and I found it over at Mama Kat's Losin It. It's actually a YouTube tag, but I'm going to do mine right here on the blog.
Are you READY to get into the questions?
Me too. Let's go!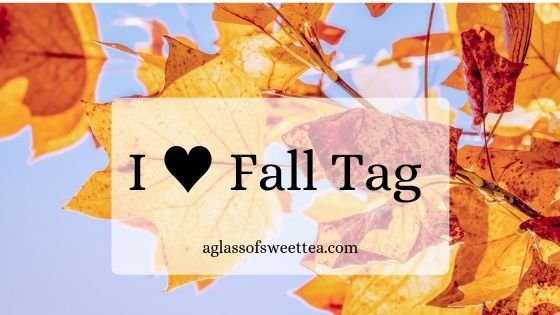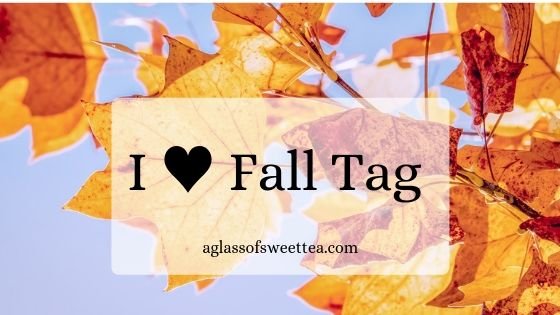 Favorite Fall Scent
Is it random if I say Cozy Cardigan by Scentsy?
No?
Ok then, Cozy Cardigan by Scentsy.
Best Way to Spend a Rainy Day
In fluffy jammies, covered in blankets up to my nostrils, watching movies, or reading a good book.
Favorite Fall Drink
Oh, wait, I don't think I have a favorite Fall drink. But I will enjoy a Pumpkin Spice Latte from time to time.
Football, yay or nay?
Hmm, I'm pretty sure it's a cardinal sin for a Texan to answer 'nay' buuuutttt…
Yay to attending a game in person, on a crisp evening, while bundled up in a coat and scarf. The atmosphere is electrifying!
Nay if I'm watching on TV. I pretty much have the attention span of a gnat.
Am I safe?
Favorite Article of Clothing For Fall
Oooh, I know this one without even thinking about it.
Scarves.
I'm an equal opportunity Scarfer, I enjoy knits and fabrics alike.
Cable knit sweaters come in at a close second.
Haunted House, Haunted Hay Ride, or Haunted Corn Maze?
Umm. No.
These never go well from me.
I've done three haunted houses, zero haunted hay rides, and no corn mazes.
Anytime I do a haunted anything, I come thisclose to seriously injuring myself in my attempts to flee to safety.
I know it's not real, believe me I do. But the fight or flight impulse is strong with this one (yes I'm talking about myself). And your girl does not need an assault charge.
So, I'd like a table for 0. Hold the haunts, please.
The Scariest Movie You've Ever Seen
A Nightmare on Elm Street (1984).
Do not even bring up that horrid 2010 remake.
I first watched it as a child. Why did I do that to myself?
I never knew I could be afraid of something as basic as sleep. Maslow would not approve.
Psychological horror, thriller, suspense, or whatever you want to label this, is THE worst.
But there I am, still watching.
Favorite Candy To Eat on Halloween
Bottle Caps.
Who ever knew that dust could be so gratifying?
What Will You or Your Kids Be This Year?
A big, black, spider!
I think.
Favorite Fall Recipe
To eat, you mean?
Well that would be my granny's sweet potato pie.
Or is it her peach cobbler?
Or maybe her coconut pineapple cake?
Yeah.
What Is Your Favorite Thing About Fall?
The cooler, crisper air; sparking up the fireplace; the cozy feels; the foliage; I could keep going.
But really, what's not to love about it?
Who else would you like to see complete the I heart Fall tag?
You.
Tag, you're it. 😀
I look forward to reading your responses in the comments. Or if you have a blog, link back to this post and I'll pay you a visit.
All the Best,
♥ Ash