How much can you actually get for $5?
Not much, I'd say.
That's exactly what I thought of Fiverr after hearing it pitched as a marketplace where you can hire someone to complete a task for the low price of $5.
But, that was a long time ago.
More than 10 years after I'd hear that initial pitch, I'd learn it was that, and more.
Let's talk about it.
Is Fiverr Any Good?
If you're anything like I was, you probably want to know if it's possible to find good services, and sellers, on Fiverr.
Before I used it, I didn't know anyone in my personal life who'd hired from there, so, naturally, I was skeptical.
But, since I was already in the market for a career coach, and all of my efforts to find one amounted to dust, I gave it a shot.
The good news is that through Fiverr, I was able to find a career coach, who, is not only great at what she does, but was the right fit for me.
So much so, that we ended up working together SIX times and I have plans to work with her again, in the future.
And with that, my first hiring experience was a success!
Two Things I Really Like About Fiverr
1. Global Marketplace
Fiverr is a global marketplace, with sellers, and professionals, from all over the world.
Interesting fact: my career coach lives in Europe.
Was I looking across the pond for a career coach?
Nope.
But, I was able to find one based on the right fit, instead of being limited by geography, because of Fiverr.
2. Multiple Service Tiers
Fiverr allows sellers to offer up to 3 tiers of service.
Each tier (Basic, Standard, Premium) comes with a different level of service and pricing, and builds on the one before it. I like this because you can choose the one that, not only best meets your needs, but is most comfortable for your pocketbook.
Like the insurance company says – "only pay for what you need".
This post contains affiliate links. If you make a purchase using one of these links, I could earn a small fee, at no additional cost to you.
Tips for The First Time Fiverr User
With so many sellers on Fiverr, you're likely to find lots of individuals offering your desired service. So, my first tip is to check out multiple sellers before choosing one, even if you think you've found "the one" right away.
Take a look at each one's samples, Frequently Asked Questions (FAQ), and reviews.
You'll find samples, if any, by swiping a seller's header image to the left on the app, or by pressing the right-arrow icon on the desktop site.
Additional samples maybe available under the section called My Portfolio.
Always review the Frequently Asked Questions. There you'll usually find the seller's history, credentials, and what qualifies them to offer the service. You'll also find information that may not be listed elsewhere such as, "please reach out to me before ordering", and similar things.
Read the reviews, but also understand that not every seller will have reviews; the newer ones, in particular (more on this in a moment). But for the ones who do, read them – the good, the bad, and the ugly.
I suggest reading some 5, 3, and 1 star reviews to get a big picture understanding of: the quality of the service, their professionalism, potential issues, and what it might be like to work with them.
I also suggest giving more weight to more recent, and detailed, reviews rather than say, a one-off from 2 years ago, or one that's short and sweet like – "great seller, will definitely use them again".
Alright, let's circle back around to talk about new sellers. Consider giving new sellers a shot. There's more risk involved than working with an established seller, of course, but often times their prices are more affordable and their service may be just as good as established sellers.
Here's why: a lot of newer sellers price their services low to get the ball rolling. Once they've gotten their first few clients, and received some good reviews, they usually raise their prices.
And don't hesitate to reach out to them to get a better feel for them, if you are considering placing an order.
Test the waters. By this I mean, consider going for a lower-priced service tier, at first. This helps you in a couple of ways. You can get a feel for the seller and their work before spending a heap. It also helps you skirt sellers who are not the right fit for your project. Plus, it's a smaller hit to your pocketbook, in case you decide to use someone else.
In addition to finding the best person to do the work, consider who you'd work best with. This is especially important if you'll be working closely with the seller – think coaching services, or something similar.
Create an account so you can "save" the people whose services you're considering. This makes it easy to return to the listing. Save yourself time and a headache. Trust me on this one.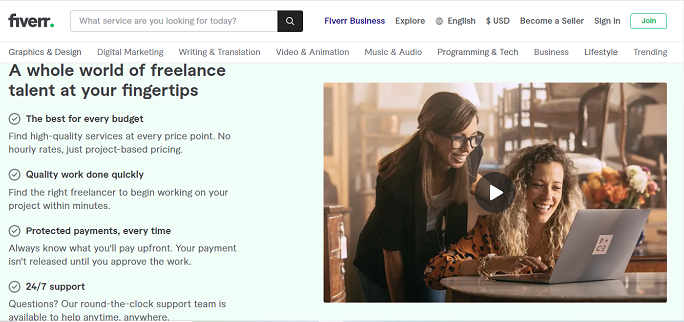 How I Look At Fiverr Now
Can you get anything good for $5?
Maybe, just maybe.
But you'll find that and more on Fiverr. You will find legit sellers that provide great service.
Although I've only worked with one person from Fiverr, I would hire from there again, hands down. I've even started looking for Spanish tutors. 😛
Here's to finding your best seller.
Happy Hunting!
xo,
Ash
P.S. A final tip – use a desktop, or laptop, to see more sellers' listings at a time.