We have 4 different books and 4 different genres: Women's Fiction; African American Historical Fiction, Contemporary Romance, and a YA Fantasy Fiction.
Heads up: Affiliate links ahead, which means I could earn a small fee if you make a purchase using one of these links.
Disappearing Earth (Julia Phillips)
Disappearing Earth is a Literary Fiction, Women's Fiction, novel that hits shelves on May 14, 2019.
What It's About
Two sisters, ages 8 and 11, vanish off of a remote peninsula in Russia.
The police investigate the disappearance but nothing turns up.
Told during the course of a year, one months at a time, we heard from those affected by the disappearance: a neighbor, a detective, a witness, a mother.
Why I'm Interested
When the official blurb said, the fear and danger of their disappearance is felt most profoundly among the women of this isolated place, I said – I'm in!
I want to know about the lives and experiences of these women, including their stories and perspectives. In what ways does a child's disappearance affect those who were close to them?
In West Mills (De'Shawn Charles Winslow)
In West Mills is a Historical Fiction, African American Fiction, coming out June 04, 2019.
What It's About
Azalea "Knot" Centre lives by her own rules, despite what the gossips in small town West Mills have to say about her.
She enjoys 19th century literature, the company of men, and cheap moonshine.
But her freedom comes at a high price: being ostracized from her hometown and her relatives.
For a semblance of family and home, she turns to her neighbor, Otis Lee Loving.
Otis Lee Loving is a fixer who tries to help people make good choices. And after a failed attempt at helping his sister, Knot shows up at his doorstep, presenting a possible path to redemption.
That is, until his own long buried secrets and troubled past come to light.
Why I'm Interested
Knot's personality reeled me in – stubborn, lives by her own rules, ignores others opinions of her. Check, check, check. And I love a good book set in a small town.
This part of the blurb cemented my decision: "Set in an African American community in rural North Carolina from 1941 to 1987, In West Mills is a magnificent, big-hearted small-town story about family, friendship, storytelling, and the redemptive power of love."
Big-hearted? Small town? Family? Friendship? Storytelling? Power of love?
I'm here for all of that!
The Flat Share (Beth O'Leary)
The Flat Share is a Contemporary Romance, Romantic Comedy slated for release on May 18, 2019.
What It's About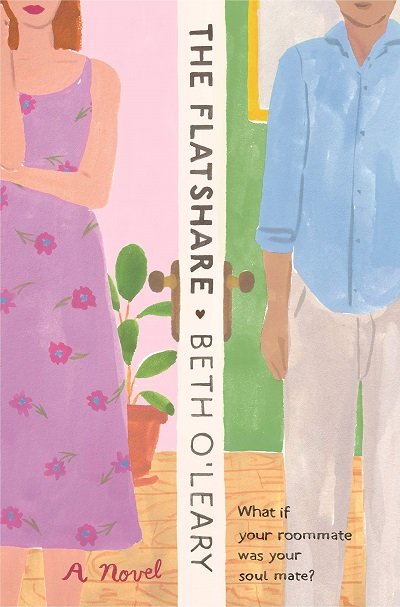 After being dumped by her cheating boyfriend, Tiffy needs a new place to stay: fast! But her minimum wage salary doesn't leave her with many options.
Desperate for a place to stay, she answers and ad for a flat-share.
Leon, an overnight palliative care nurse, will use the flat during the day, and Tiffy at night.
Slowly, the two begin to connect via post-it notes left around the flat.
A friendship develops, and maybe something more.
The Flat Share questions: "Can true love blossom even in the unlikeliest of situations? Can true love blossom even if you never see one another? Or does true love blossom when you are least expecting it?"
Why I'm Interested
Hello fresh premise! I've never read or even heard of a book with a premise like this one: 2 people who live together, fall in love (possibly), without ever meeting each other?
Sign me up!
It sounds cute, quirky, and like a lot of fun.
Soul of the Sword (Julie Kagawa)
Soul of the Sword is book #2 in the Shadow of the Fox series: a Japanese-inspired, Young Adult Fantasy.
It hits shelves on June 18, 2019.
To avoid spoilers, I'm going to give you the synopsis for Book 1: Shadow of the Fox.
What It's About
The thousand years has come again and the Kami Dragon will rise to grant a single powerful wish to whoever possesses the sacred scroll.
There are those who wish to keep the scroll safe, while others wish to obtain it for nefarious purposes.
Yumeko and Tatsumi stand on opposing ends, yet form an uneasy alliance, each with their own objectives. Which will be the victor?
Why I'm Interested
I NEED to read this is because I need to know what happens after that cliffhanger at the end of book 1.
Here's the full synopsis for Shadow of the Fox, and the synopsis for Soul of the Sword.
Wrapping Up
And the you have it guys, the four May and June 2019 releases I'm anxiously awaiting.
So guys tell me, do any of these books sound interesting to you? If so, which one? And which May-June 2019 releases are you waiting for?
Until next time…
Happy Reading!
All the Best,
♥ Ash