Now, y'all know that I love to read, right?
But a girl can only read so much before my eyes go cross, and my brain turns to mush.
I needed something new; something to do when I wasn't reading.
So I decided to try my hand at wreath-making.
Now, there are lots of different types of wreaths you can make, and a plethora of materials you can use to make them, but I figured a spiral deco mesh wreath would be the easiest (and cheapest) place to start.
Translation: I'm new at this and I didn't want to spend a ton of coin in case I lost interest, or was terrible at it.
At the time, I didn't have use for a wreath, so I figured I'd make it for someone else. But who?
My 4 year old niece is obsessed with Poppy from the movie Trolls by Dreamworks. So, being the awesome Auntie that I am :P, I decided to make one for her.
This post contains affiliate links. If you make a purchase using one of these links, I could earn a small fee, at no additional cost to you.
The final product…
Like it? Well here's how to make one of your very own…
Note: I'm just walking you through how I made this one. But you choose the colors and themes that you like. Ideas to consider include: birthdays, holidays, occasions, characters, and your favorite color schemes.
Here we go –
MATERIALS
Note: You should have a total of 40 yards for this project.
Now, on to the instructions.
INSTRUCTIONS
The first thing you'll want to do is prepare your materials. You'll cut up all of your mesh into 5-6 inch pieces. The main thing you're looking for is that your able to roll each piece into a complete cylinder.
You'll also cut your ribbon into 6 inch strips.
I like the dovetail look, so I dovetailed my ends. If you like the look, dovetails yours, though it's not necessary. Some people do half and half.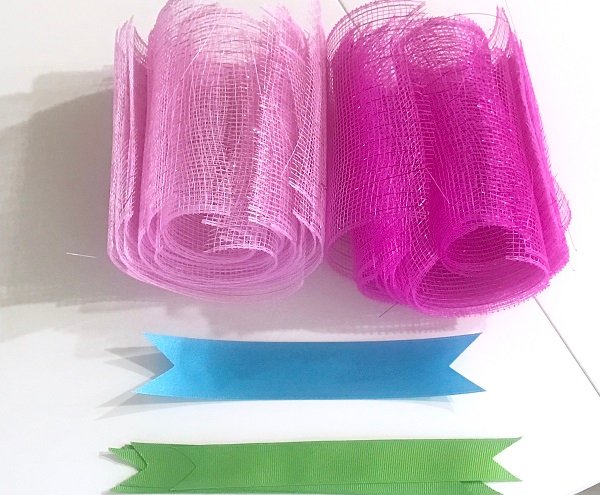 Before we move forward, I want you to know that each bundle will consist of 3 strips of mesh, 1-2 strips of ribbon, and 1 chenille stem.
I used 2 different bundles. One had 3 light pink mesh strips and a blue ribbon; the other had 3 dark pink mesh strips, one blue ribbon, and one green ribbon.
Play around with this to see which bundle combos look best to you. You can have multiple color mesh in one bundle, or only one color. Also, see which ribbon you like with different color bundles.
Now back to our regularly scheduled program…
You'll roll 1 mesh strip at a time. Pinch the middle to hold the roll in place, while you roll the others. It'll look like this…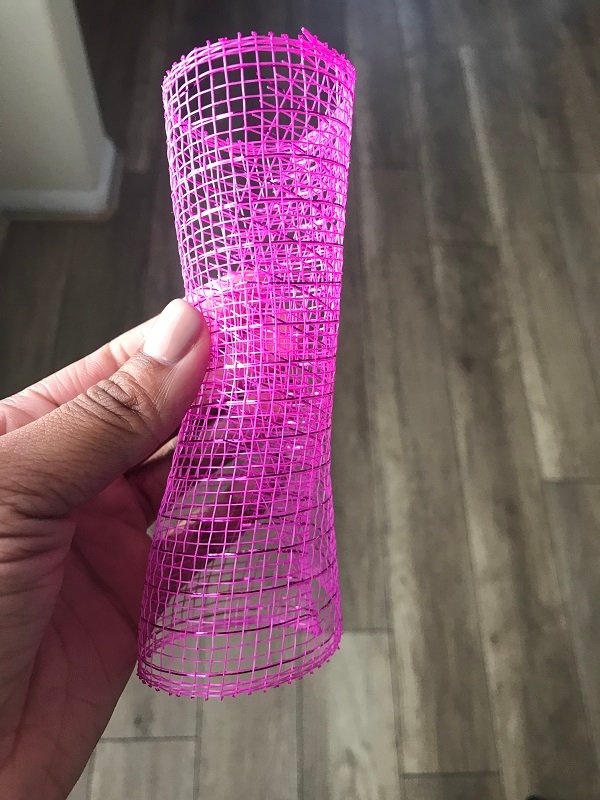 Now, you'll roll two more. One will be straight up and down, the other two will be at opposing 45 degree angles, so \ | /.
Remember to hold each roll in place by pinching the middle.
Now, you're ready to add your ribbon. When using one ribbon, align it with the vertical mesh strip. If you're using two, cross them like a lowercase letter "t".
To complete the bundle, you'll secure it with a chenille stem.
Lay the chenille stem horizontally over the front of your pinched bundle (like –). Pull each end around the back of your bundle, and fasten securely by twisting three times.
Don't worry if the bundle looks wonky, or about seeing the chenille stem. We'll fix those later.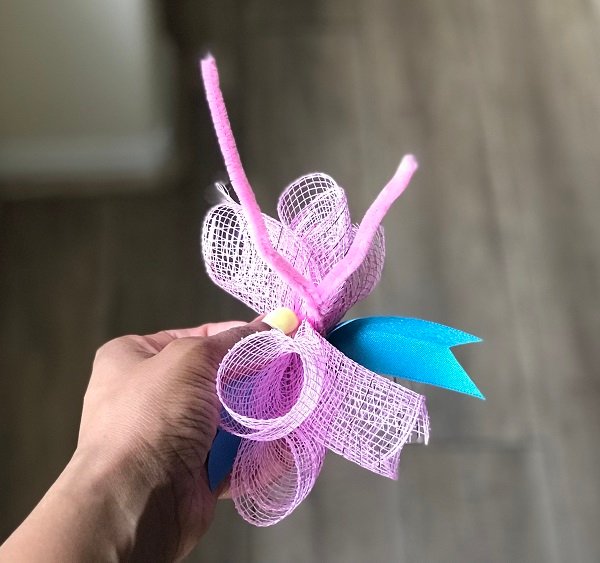 Repeat this process until you have enough bundles to complete the wreath. I used 7 bundles for each section of the wreath ring, so I needed about 42 bundles.
After you've finished that, you'll start attaching your bundles to the ring.
A note: I played with my pattern to see what looked best (to me). I came up with 2 light pink bundles, followed by 1 dark pink bundle. So all around my wreath I had 2 light, 1 dark, 2 light, 1 dark etc. I chose this pattern because I didn't want the darker color to overpower the lighter one. Do what looks best to you.
Let's continue…
Take the two loose ends of your chenille stem, and put them through either side of the two middle rings, like so…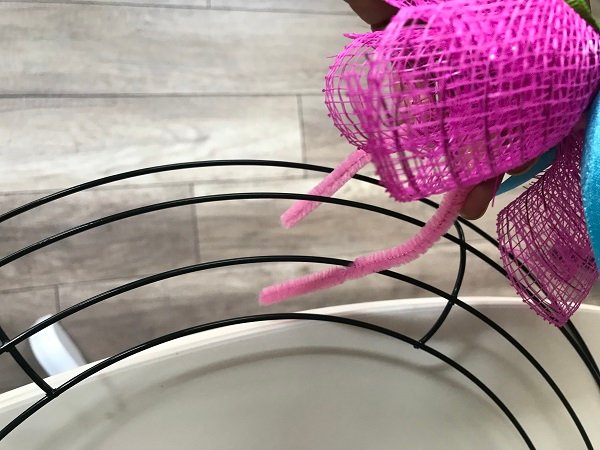 Now, you'll cross both sides…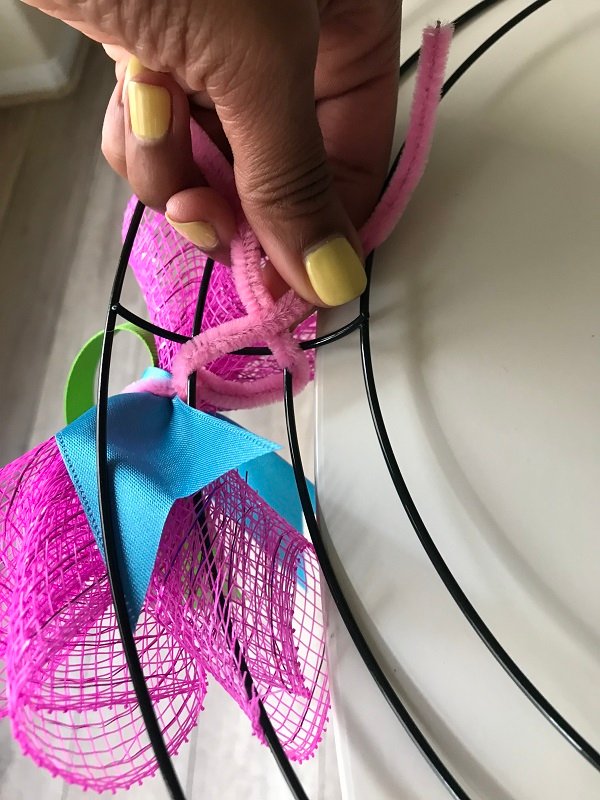 And twist three times to secure your bundle to the wreath ring.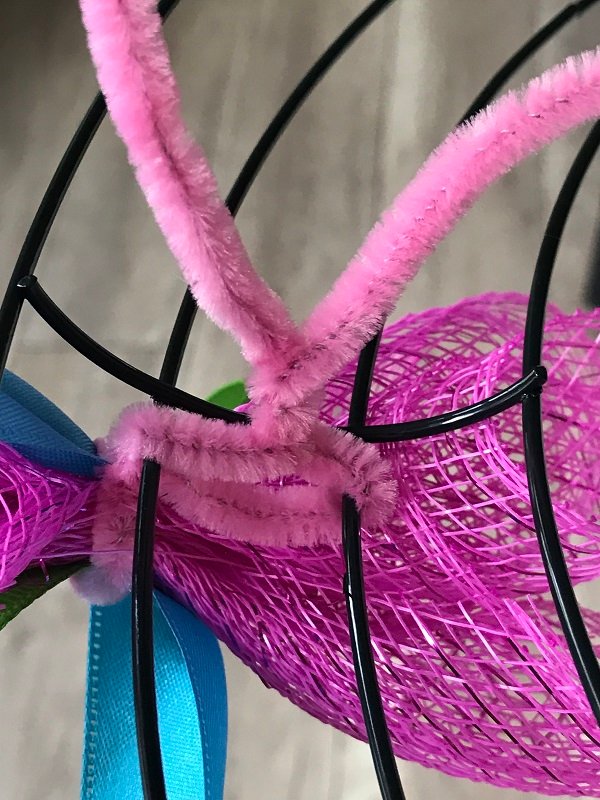 Now, push that bundle to the top of the section to make room for the others and add more until you reach your desired fullness.
The back of your wreath will begin to look like this…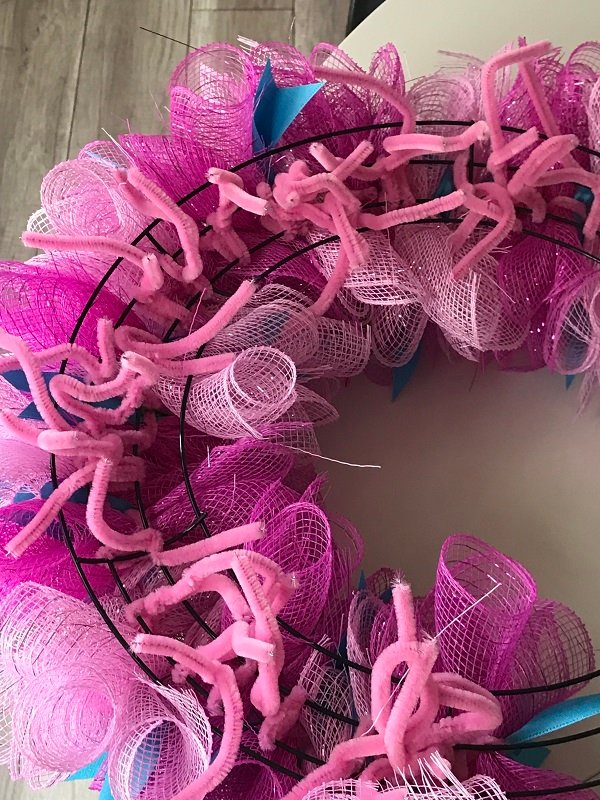 Repeat this process until you've completed the wreath.
Last Things
After you've attached all of your bundles, you'll want to do few last things:
scrunch and fluff your mesh – Flip your wreath to the front, and play around with your mesh and ribbon to make them look the way you want. This is the step that hides your chenille stems, so scrunch and fluff well.
tuck the wild chenille stems at the back – Tuck, tuck, tuck. For this I twist all of the chenille stems around each other, almost like a hair braid or hair twist, to make them as flat as possible.
trim, trim, trim – You'll notice that as your make your wreath, you'll see loose strings on your mesh. Some folks like to trim those off, others think it gives the wreath more character. So, trim, if you please.
For Attachments (Optional)
If you're going to attach something to the front of your wreath, make sure you complete the Last Things (above) first.
Now, I didn't get any images of myself attaching Poppy to the wreath, but one thing I'll tell you is that I used a lot of glue. More than I thought.
The best tip I can give you is this: determine where you want to place your add-on before you glue anything.
Play around with it's placement on the wreath. Try it high, low, to the left, to the right, and centered.
And ask yourself: do I want this to sit on top of my mesh, in between layers of mesh, behind my mesh, etc? If you look closely at my wreath, you might notice that Poppy is between layers. That's because I had to glue her shoes into the mesh. It was the only way I could get her to stay in place.
When you've figured that out, you're ready to glue. Start with a little, and add more as needed. You want it on there securely.
RELATED: 11 Cute Easter Basket Books for Babies and Young Toddlers
Wrapping It Up
So, there you have it guys, instructions for making your very own spiral deco mesh wreath.
Let your imagination run wild as you choose your colors and themes. And most of all: have fun!
All the Best,
♥ Ash