She loved it.
And we didn't even have to leave home.
I found this activity at the exact right time too, since I had been looking for a simple water-play activity for her.
What is it?
A splash mat – the perfect activity for us.
If your baby is sitting independently, but not crawling yet, then this will work for you, too.
Splash Mat Chat
This splash mat activity worked well for us because it allowed us to make our own fun at home, cut out travel time, and work around her naptimes.
Plus, we could do it whenever we wanted.
In her early infancy, taking Plum out felt like a huge endeavor. One any given day – Would she be in a good enough mood to ride around? Would I remember everything I needed for her? Try as I might, I occasionally forgot things at home.
And I won't even mention rushing home to get her in bed for nap time (flying pigs would not have caused me to miss that, since it was also my quiet-time)!
For those reasons, I was super-motivated to find more opportunities for fun, and play, at home.
If you want to give it a go, here's how you can prepare this activity for your little one-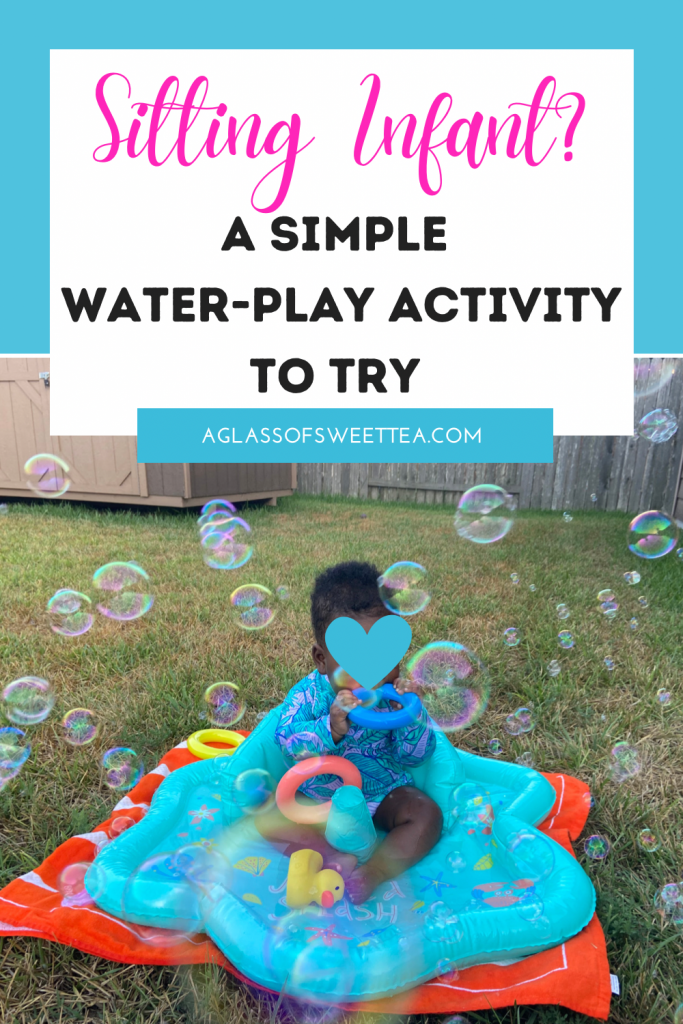 This post contains affiliate links. If you make a purchase using one of these links, I could earn a small fee, at no additional cost to you.
Items You'll Need
Although this activity is super simple, I recommend that you prepare for it in advance.
You'll Need:
♥ Baby Splash Mat – with canopy, without canopy
♥ Electric Air Pump, or your own breath 🙂
♥ Baby Swimsuit
♥ Swim Diapers – I grabbed the reusable ones….New mom moment: did you know that swim diapers don't hold urine, only poo? And that goes for the disposable ones, too!
♥ Sunscreen, to protect baby's skin, and because babies can even sunburn in the shade.
♥ Pitcher, or Large Bowl of Water
♥ Sun Protection Baby Hat (optional in the shade, or if using a mat with a canopy)
♥ Bubble Machine (optional, but it sure makes things a lot more fun!)
♥ Bubbles, for the machine (optional)
Extras:
♥ Floating toys, additional ones
♥ Drying towel, for baby
♥ Change of Clothing, for baby
♥ Cardboard or towel, to go underneath the splash mat (for an extra layer of protection from bugs and ants)
♥ Chair, for mommy
♥ Cool drink, for mommy
♥ Small table, for mommy's drink
♥ Music, for ambiance (small portable speaker, or your phone)

Prep & Setup, Step-by-Step
1. Decide on a day.
Take a look at the forecast to make sure the weather will be good.
2. Decide on the time of day.
Be mindful of the temperature, humidity, and where the shade will be, as you decide the time of day.
5:30 – 6:15 PM was our typical start-time for 2 reasons: our backyard is shady during that time, and it's also when the Summertime Houston humidity is most bearable (dewpoints around 68 degrees).
Suggestion: Consider waiting 30 minutes after baby has eaten before doing this activity.
3. The night before the activity, inflate the mat, check the batteries in the bubble machine, and gather everything you need. Put the items in a box, or container.
4. On the day of the activity, 30-60 minutes before your start time, set up these 3 things: indoor dressing space, outdoor play area, and indoor dry-off space.
Indoor Dressing Space
Lay out baby's swimsuit and swim diaper, for quick dressing.
Fill your beverage container during this step, too.
TIP: If playtime will end around baby's next feeding, have their bottle ready to go. their next feeding time, have a bottle ready to go.
Outdoor Play Area
Set up your play area.
Take these items outside:
✓ splash mat
✓ pitcher of water
✓ bubble machine
✓ bubbles
✓ chair
✓ small table
✓ beverage
✓ portable speaker
✓ drying towel
✓ box, or towel
TIP: Use the pitcher, or bowl, to pour water on the splash mat. It's so much easier than having to unwrap and re-wrap the water hose.
Indoor Drying Space
Lay baby's changing mat on the bed along with a fresh diaper, wipes, and dry clothing.
5. Take baby out for some water fun in the sun! Baby will be occupied on their mat, while you monitor and enjoy the outdoors.
Remember, NEVER leave a baby alone around any amount of water. Babies can drown in just 1-2 inches of water.
We typically stay outside for about 45 minutes before she's ready to call it quits.
6. Once you're finished, take baby to your Indoor Drying Space, where you'll dry them off, and get them dressed.
Water play really exhausts babies, so expect naptime.
7. At naptime, clean up and return all items to the box for the next time.
A Simple Way For Baby To Self-Entertain
Plum always had a ball with this activity. She reached for the bubbles, chewed on the rings, and played with the duckies, all while enjoying the sights and sounds of the outdoors.
Here's to your baby enjoying it, too!
All the Best,
Ash
P.S. Jump back to the list of what you'll need.