If you want to laugh out loud or if you like awkward, quirky characters, then this book might be for you.
But before we get in to the review, let me tell you what it's about. Spoiler-free, of course.
Heads up: Affiliate links ahead, which means I could earn a small fee if you make a purchase using one of these links.
Synopsis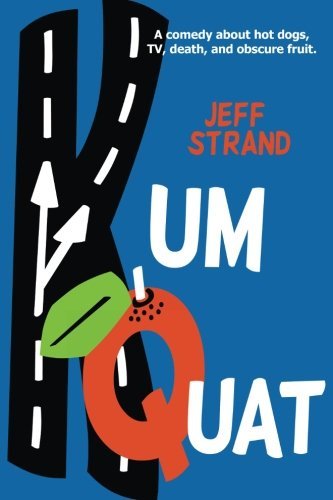 Would you take a road trip with someone you just met?
35 year old Todd certainly wouldn't.
Todd plays life safe – content with a run of the mill job, unemployed-gamer roommate, and failed love life. That is, until he meets Amy at the Worst Film Festival of the Century.
She's cute, quirky, and funny. She also doesn't have much time to live.
Amy convinces Todd to step out of his comfort zone and the duo embark upon a 22 hour cross-country trip for an infamous hot dog.
Will they get their hot dog before her time runs out?
Also – there may or may not be giant gummy bear tractors, men with hooks for hands, suspicious looking hitchhikers, ornery old ladies, stolen or damaged property, a hospital stay, and some vomiting. Maybe.
A quirky, hilarious, and entertaining read.
My Thoughts
I had so. much. fun. reading this.
From the moment they met, Todd and Amy's quirks were on full display. He was reserved and cautious, she was adventurous and free-spirited. They were a fun pair to follow.
What I Liked
We don't have to wait a long time for things to pick up. A couple of chapters of set-up and BOOM, we're in the story.
A wild ride! Todd and Amy could barely recover from one thing gone wrong before something else was falling apart. I couldn't catch my breath but I was loving it.
Todd and Amy's refreshing relationship. Their personalities were so disarming, and their senses of humor played well off of one another. Amy was just as funny as Todd, if not more so.
Todd's thoughts. As entertained as I was by the things happening to Todd and Amy, I was even more entertained by Todd's thoughts toward these things. His thoughts were witty and oh so relatable.
Could've Been Better
I loved the first half of the book, but the second half lost a little bit of that spark. Though still good, and most definitely still funny, I preferred the first half a hair more.
As much as I enjoyed the humor, I wanted more depth to Amy and Todd's friendship. I wanted them to see them get to know each other on a deeper level. But I'd take this as a personal preference rather than a critique against the story.
Final Thoughts
My Final Rating: 3.75 out of 5 Stars
All in all, Kumquat's humor and comedic timing were spot on for me, and I enjoyed plenty of laugh out loud moments as I read it.
If you want to read something fun and entertaining, witty, lighthearted, and hilarious, consider giving Kumquat a shot.
I doubt you'll be disappointed.
Happy Reading!
All the Best,
♥Ash