I can't figure it out!
I read The Benefits of Being an Octopus book months ago, and have wanted to talk about it since then but I just can not figure out how to.
Have you ever desperately wanted to express something, then opened your mouth to speak on it, and all of a sudden your thoughts jam?
(Brain jam…is that a thing? If not, let's coin a new phrase.)
Well, that's how this has been for me.
I don't think I'll ever have the right words, and again, it's been months, so here goes nothing.
Heads Up: This post contains affiliate links. If you make a purchase using one of these links, I could earn a small fee, at no additional cost to you.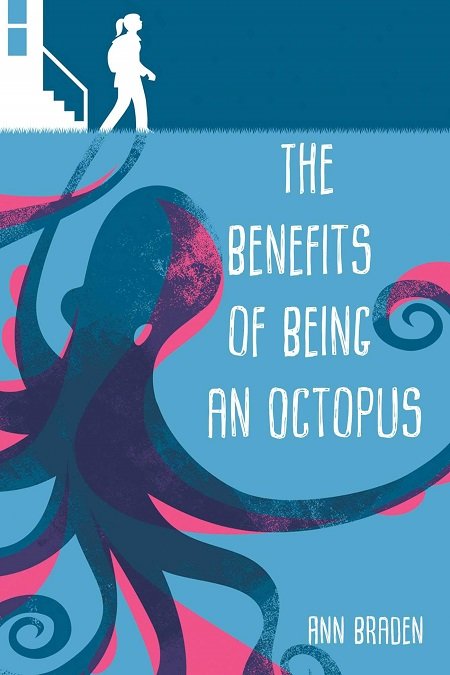 ♥ It's a Middle Grade, Realistic Fiction, Novel.
♥ It gives us a peek into poverty and the family struggles that follow.
♥ We follow our main character, 12 year old Zoey. She lives with her mom; her three younger siblings ages 1, 3, and 4; her mom's boyfriend; and his father.
♥ I loved the fresh perspective, as I've never read anything like this.
♥ Despite the subject matter, it never veers into saccharine territory, remaining straight-forward throughout. It's not trauma-porn (thank goodness) and doesn't judge. Benefits simply presents the story, and leaves the reader to take from it what they will.
♥ Zoey is definitely a character to root for. She, as well as others, touched my heart.
♥ There's a lot to takeaway from this story. One, that stood out to me, is that everyone doesn't grow up under the same circumstances, a sometimes misplaced fact.
♥ I think this book may help those who can relate feel seen. It may also give pause, or insight, to others.
♥ It was a fantastic read. I gave it a 5/5 rating. I don't just recommend it. I am, in fact, emphatically shoving it into your virtual hand, pleading with you to READ IT!
There's so much more I want to say but alas, I still can't find the words. It's a good thing this story speaks for itself.
Until next time…Happy Reading!
All the Best,
♥ Ash
P.S. If you like Realistic Fiction, I've also talked about these titles that you might enjoy: Drums, Girls, and Dangerous Pie (Middle Grade); A Heart in a Body in the World (Young Adult).